Another CNSF Alumnus strives for the top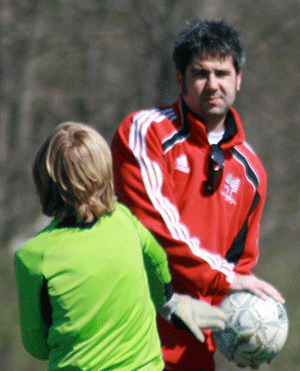 My name is Greg Hennelly and I grew up in Akron, Ohio and have always been involved with soccer since I was a youngster. I grew up playing club soccer and eventually earned the honor of being named an All-American as a player. I went on to play in Division 1 soccer in college where I began to lose my passion for the game, as the soccer program I was involved with was struggling in more than one way. A former coach of mine asked me if I would be interested in coaching soccer. He had recently started a cub called Toledo Football Academy (TFA) and asked if I would be interested. He soon moved onto coach college and I took his position at the club as Director of Youth Development at TFA (where I still am today). The club at the time was small and has since grown to be a successful club in the Toledo Area since.
Growing up I always had great coaches who influenced me tremendously. Once my playing career had come to an end, I realized the importance of strong influential coaches in a youngster's playing career. I began to focus on coaching and put everything I have into helping bring up strong, confident, responsible players both on and off the field. I did not want a player to ever lose their passion for the beautiful game and want every individual who plays the game of soccer to love it and understand it in its entirety for their entire life.
I began going through coaching courses and soon was unable to afford the cost for higher coaching education. A fellow coach had recommended looking into the CNSF scholarship fund for some assistance. The CNSF scholarships have helped me tremendously throughout my coaching career and is one of the sole reasons I am in the position I am in through soccer today. They have provided me with the opportunity to continue my coaching education with the goals to bring up strong soccer players and mature individual both as players and people. I cannot thank them enough for the opportunities they have given me. I now have the opportunity to go for my 'A' license at the age of 24, something that would never have happened without their strong support and financial aid throughout this journey.
As a result of CNSF generosity, I currently have my 'B' license and am involved with ODP at both the state and regional level. I have been able to learn how to guide and mentor young players in ways in which would not exist without CNSF's help and the people who have continually supported me in my coaching career.
A sincere thanks goes out to everyone involved with the CNSF program and to all coaches and mentors I have had throughout my soccer life. I appreciate everything everyone has done for me to get me to the level I am at now.
Thank you,
Greg Hennelly
Toledo Football Academy
Director of Youth Development
www.toledofootballacademy.org