Our vision on a path to sustainability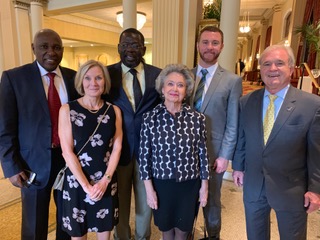 In 2018, the founders of the two organizations, CNSF and Open Field, met one another and came to the realization that we shared a common mission: to improve the lives of youth through soccer. We then came together to discuss how we could work together to further spread our mission. The result of our discussion was the decision to expand the mission and programming of our two organizations into another African country, Guinea.
CNSF had been successfully carrying out its goal of "youth coaching youth" in various states throughout the U.S. since its inception in 2002. Open Field has been successfully implementing its programs in both Africa and the U.S., specifically throughout Cameroon and in Pittsburgh, Pennsylvania. The founders agreed that the success achieved in Cameroon could serve as a model for programming in Guinea.
We are very excited and happy, therefore, to announce our intention to come to Guinea to replicate the successes we have had in the past in improving the lives of youth through sport. We hope that our past and current achievements will serve to foster support for our endeavors in Guinea, and that once we have introduced ourselves to the youth there, they will be as excited and enthusiastic about our presence as are the youth in Cameroon and the U.S.
You can donate to support this effort by clicking here.
CNSF Affiliates